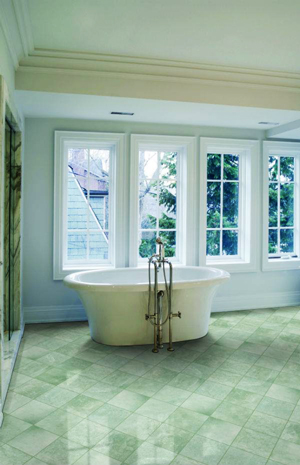 Everyone needs window coverings, so Interior Dreams offers a variety of window treatments to choose from. Custom window treatments with beauty and practicality can be yours. We will help you with the details from selection, measuring and installation. We have a large selection of fabrics as well as ideas.
Your windows are an important part of your home's decor.
Not only that, the window treatment you choose can have an effect on how each room feels. The proper window treatment can help keep summer's heat and winter's cold out.
Today, there are many choices in window fashions such as
cellular shades, sheer horizontals, sheer verticals, wood blinds, wood alloy blinds, pleated shades, roman shades, woven woods, verticals, cellular verticals, mini blinds and more. In addition to carrying window treatments by A Better Blind and Hunter Douglas, we also offer shutters through Sunland Shutters. Stop by our store and let us help you pick out the right treatment for your home or office!
Cellular Shades
Also known as honeycomb shades, cellular shades have no space between slats; rather, they are folded like an accordion and have a honeycomb shape on the sides. These pockets hold in warm or cool air to reduce energy cost for your home in all seasons.
The design makes them easy to clean as well. They can keep out light or raise easily to allow natural sunlight in. Available in all colors from white to bright hues and black, this is a great, low cost choice for your home.
Roller Shades
These simple window coverings are one sheet of fabric, rolled down from the top to cover the window. There are light filtering and blackout types, along with natural, prints, and bright colors.
These shades reduce glare in any room from a bedroom to an office building. We can customize the size and how much light the shades let in to fit any your preferences and any room of your home. Fabric choices include vinyl, tweed, and cotton.
Wood Blinds
Wood blinds are an elegant choice for bedrooms, living rooms, and kitchens. The deep brown color is attractive and matches any colors of your décor. They are durable, open and close easily, and reflect heat and cold off of them. You can purchase them for windows of any size from a small bathroom window to a floor to ceiling sliding glass doors.
The slates can be narrow or a few inches wide, with coloring ranging from natural, pale wood to chocolate brown, rustic stains, or painted colors such as red, purple, and green.
There are several types of wood to choose from such as oak, cedar, pine, and bamboo.
Sheer Solutions
Interior Dreams has sheer solutions for your windows as well. These work well for elegantly coordinating your rooms. There are horizontal and vertical products for your widest doors or smallest windows. They can be adjusted for maximum light control and privacy simply by pulling the cord.
While you can see out perfectly with sheer curtains, they diffuse light from the outside so you have privacy during the day. They work best for open floor plan households and workspaces.