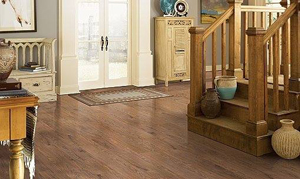 At Interior Dreams, we pride ourselves on offering the most comprehensive line of flooring products. We are your one stop shop for your flooring needs. Whether it is plush carpet in your living room, ceramic tile in your bathroom, or hardwoods in your entry way, we have the right product for each of your flooring applications.
Things to consider when choosing flooring:
Prefinished Versus Unfinished
Unfinished floors require several days to install, stain and finish the flooring. Prefinished floors are less messy and can be installed and completed the same day. A factory-applied finish like Mohawk's exclusive Scotchgard™ or CrystalShield™ finish with aluminum oxide is extremely durable and could not be duplicated with a job-site finish.
Where is the room?
Diagram of the different grade levels in the house. Knowing where the floor will be installed is essential. Before choosing a floor, determine if the room is above, on or below ground level (grade). Mohawk Engineered Hardwood Floors can be used in most areas in the home including rooms below, on or above ground level. Solid wood floors are approved for above ground-level installations only. These floors perform better in humidity-controlled environments.
Is your sub floor concrete or a type of wood substrate?
Engineered floors are ideal for concrete slabs. For remodel projects you may want to consider Mohawk Engineered Hardwood floors that can be floated directly over the existing floor which eliminates the mess and additional costs of tearing out the old floor.
Carpet
Offers the broadest color and style combinations as well as visual and actual textures. Soft and warm underfoot, carpet can go over most any surface. Styles and grades for every pocketbook.
Amazing Selection…
Carpet comes in many variations. Our staff is prepared to assist you in finding the right carpet for any room in your home. As a Mohawk Color Center dealer, Interior Dreams is able to draw on the 125 year history of Mohawk Industries. As you will learn, Mohawk has been synonymous with high quality, skilled craftsman, and cutting edge features for many years. Our affiliation with Mohawk also allows us to offer you My Mohawk RoomMate. This program can assist you in visualizing your room with several different carpeting options. At Interior Dreams, we guarantee you will find a carpet that both you and your home will fall in love with!
Tips for Choosing YOUR Perfect Carpet:
1. What room will the carpet will be going into. Will it be a Bedroom, Family Room, Children's room, or basement?
2. Do you have children or pets? If yes, what type of pets and how large are they?
3. What is your style preference? Traditional, Contemporary, Transitional, Victorian?
After you answer the first few questions, you can begin looking at the styles of carpet that interest you. There are six types to choose from, within each type, there are many colors and patterns that are available. From sophisticated patterned carpet, to luxurious plush twists, Interior Dreams has something for you. Be sure to check out our Types of Carpet page to find out more.
Types of Carpeting
Understanding a few simple basics about carpet construction will help you make the right choice for your lifestyle and budget.
Textured Plush

Most decoratively versatile cut-pile carpet
Textured surface helps hide footprints and vacuum marks
Adds casual beauty to any room
Looks great between vacuuming
Preferred style for busy households
A great "whole-house" carpet
Saxony

Refined cut-pile surface
Luxuriously smooth, soft finish
Beautiful with traditional interiors
Adds distinctive elegance to any room
Ideal for living and dining rooms
Shows subtle highlights and accents
Berber Loop-Pile

A wool-like look and rugged loop surface
Natural, hand-crafted appearance creates a warm, personal atmosphere
Tight loop texture helps hide footprints and vacuum marks
Subtle patterns fit a variety of room styles
Ideal choice for contemporary to country to cottage furnishings
Berber Cut-Pile

A new berber look with all the wonderful color and interest of traditional loop berbers
The great plush "feel" of thick, cut pile carpet
Beautifully crafted and colored yarns add personality to any room
Very versatile decoratively, ideal for casual rooms, kids' rooms, etc.
Subtle color flecks help hide soil that might appear between cleanings
Cut/Loop

Carved definition with cut-and-loop pile
Accent colors spice up floor surfaces
Multicolor effects hide soil and stains
Looks great between vacuuming
Choose from soft tonals to bolder color combinations
Commercial Loop

Versatile styles blend comfortably with any decor
Durable long-wearing surface pile engineered for high traffic areas
Intriguing color choices suitable for professional and practical installations
Textured surfaces provide subtle highlights
A Description of Common Carpet Fibers
Nylon


Nylon FiberNylon is the most common of all carpet fibers, and its high durability makes it a popular choice for areas of the home that receive high foot traffic. Resistant to most dirt, mildew and moisture, this fiber is also known for its ease of maintenance and non-allergenic properties.
PET Polyester


PET Polyester FiberThis is an excellent fiber choice for the budget conscious. Polyester shares many of nylon's nonallergenic, moisture and wear resistant properties but lacks the same degree of durability.
Triexta PTT


PTT Polyester FiberFibers are extruded from a new generation of polymer giving it exceptional durability along with built-in stain resistance, color clarity, colorfastness, luxurious softness, and ease of maintenance.
Olefin or Polypropylene


Olefin or Polypropylene fiber This fiber was first used in carpets designed for use outdoors and in spaces with high levels of moisture and humidity. Color-fastness, resilience, and resistance to water damage, mildew and piling are important benefits of this fiber. Polypropylene fiber is also recognized for a luxurious appearance and outstanding softness.
Back to Top
About Mohawk Cushion
When you purchase a Mohawk carpet, you're not just choosing beauty and style. You're also choosing superior value and excellent quality. And since you're getting all that already, why not go for the whole package?
Mohawk cushion is specifically designed to maximize and extend your carpet's plush feel and high performance. We've studied all types of flooring for decades and we know our customers get the best value and greatest satisfaction when they use a Mohawk cushion with their new carpet. In fact, to make sure the cushion quality is as good as the carpet's, we became the only producer of both in the industry.
We offer a wide selection of cushions in various thicknesses and densities to accommodate every client, every lifestyle and every budget. A Mohawk cushion helps your carpet feel richer and more luxurious; it also improves your carpet's acoustical and insulating properties making the room quieter and warmer. Mohawk cushion is an environmentally friendly product. The Easy Choice selection system makes the decision making pain free.
Mohawk is one of the world's leading carpet manufacturers. For over a century we've been the name customers can trust for all their floor covering needs. And now you can have a cushion that's equally trustworthy. When you purchase Mohawk carpet and Mohawk cushion it significantly enhances your warranty. After all, when you're using something as good as a Mohawk carpet, why would you put anything less underneath it?
Back to Top
Installing Carpeting
In this age of do-it-yourself home improvement projects, installing carpet requires a specialized skill. Mohawk recommends that you rely on the expertise of a professional installation team to ensure your satisfaction with the product for years to come. However, there are a few things you can do to prepare for the arrival of your new carpet.
At the store
At the time of your purchase, ask your flooring retailer if they have professional installers on staff. If not, ask them to recommend an independent installer for your area. In most cases, the retailer will handle all the details of arranging the installation.
Be sure to ask about additional fees, such as removal and disposal of old flooring, and moving larger furniture pieces.
Preparing for the installation
Aside from the furniture, you can make sure things go smoothly on installation day by taking care of the following beforehand:
Remove all breakable items, like vases, lamps, collectibles, and heirlooms
Detach and store wiring from TVs, VCR/DVD Players, stereos, and computers
Clear desktops, tabletops, bookshelves, tops of dressers and closet floors
Remove all sheets, blankets and bedspreads from beds
Before the installers arrive, vacuum the old carpet to minimize the airborne dust and particles.
During the installation
Your installers will arrive with the knowledge, tools and supplies to lay your new carpet. However, they will need an area to store their electrical tools and access to electrical power outlets for their tools.
Also, vacuum the subfloor after the old flooring and cushion has been pulled up and before the new floor is installed to minimize dirt and dust.
Bear in mind that your new floor coverings need to be installed over a structurally sound subfloor. Any damage that has been done by insects, water, or other problems should be repaired prior to carpet installation.
After the installation
In the months following installation, you may notice some shedding or sprouting. This is normal and will not affect the carpet's life or beauty in any way. Shedding is when loose fibers become undone from carpets made with staple yarn. This is normal and subsides within a short time with vacuuming. Sprouting is when a single tuft extends beyond the carpet surface, usually along walls or at seams. Simply clip it off; do not pull.
Back to Top
Hardwood Flooring
Available as solid (for use at or above grade) and engineered (can go anywhere in the home). Traditional styles and exotics. Natural, stained, prefinished or site finished. Remember: wood has a color too!
When it comes to natural beauty and richness, it is hard to beat the look and warmth of real hardwood. Like most floor covering products, hardwood has changed dramatically over the last few years. Never out of fashion, hardwood floors can add real value to the home. With proper maintenance, these floors can last a lifetime! This can make the price over the life of the product very economical.
Interior Dreams is proud to have partnered with several of the Industries BEST providers of quality hardwood flooring. We have a wide selection of hardwoods in our showroom to chose from including 3/4″ solid oak, maple, cherry all the way to the exotic species including Tiger wood, bamboo, Brazilian cherry and many others. Our promise to you is that your wood will be installed properly by our certified installers, quickly and professionally on the day we promise.
Tips for Choosing Your Perfect Hardwood:
What level of the home will the wood be placed in? If you want to do the basement, or anything below ground level, you will need to go with an Engineered Wood. Engineered Wood is 100% natural wood that is sliced thinly into several cross sections. These thin pieces of natural wood are laid at a 90 degree angle from the previous piece.
This assures the customer that once the wood is laid, it will not be able to expand and contract with the changes in moisture most commonly associated with basements and spaces below ground level.
Next, you need to take into consideration what type of wear do you want to see on your floor? Some Woods are very soft and will dent and scratch easily. If you are looking for a more durable wood that is more resistant to animal nails, stiletto heels, or general wear and tear you will want a harder wood.
Types of Hardwood
With a little basic understanding about the different types of wood floors you can be better prepared and more confident in your selection. Wood floors are produced in both solid and engineered planks and strips and come in a wide variety of wood species. To help determine which type of floor will work best for your situation depends upon the location within your home and the type of subfloor.
Solid Wood Floors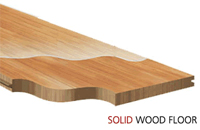 Cross section of a solid wood flooring plank.Solid wood floors are one solid piece of wood and are generally 3/4″ thick. Mohawk Solid Hardwood Floors are produced from the finest domestic and exotic hardwoods including red & white oak, American cherry, hickory, maple, and Brazilian cherry, and are available in several widths.
Because solid hardwood floors are more susceptible to humidity and temperature changes than engineered wood floors they should only be installed above grade over approved wooden subfloors and must be nailed or stapled down. Solid wood floors can generally be recoated and refinished several times.
Engineered Wood Floors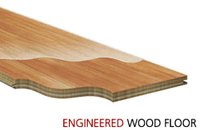 Cross-section image of an engineered floor.These floors are produced by laminating several hardwood plies together to form the planks. Most engineered floors can be glued-down, stapled-down or floated over a variety of subfloors including wood, dry concrete slabs and some types of existing flooring.
Engineered hardwood floors have cross-ply construction which reduces the expansion/contraction of planks caused by variations in humidity and allows these floors to be installed on any level in the home. Available in plank and longstrip format, Mohawk Engineered Hardwood Floors come in a wide variety of widths, thicknesses and colors in both North American and Exotic hardwoods.
Exotic Wood Species
Today wood flooring is also offered in a variety of hardwood species that are not found in North America. Mohawk Hardwood Flooring Collections include some of the finest exotic hardwoods from all over the world. These floors offer many unique and visually striking appearances that are distinctly different from the North American hardwoods.
Many of these exotic species are photosensitive and may change color over time. Please refer to sample panels for the level of photosensitivity of each product.
Laminate Flooring
The newest flooring type. Low maintenance and high wear characteristics. Rapidly expanding selection of wood, stone, and ceramic, patterns. Custom installations now possible. Impact, dent, wear and fade resistant. New sound, step and noise protection.
Types of Laminate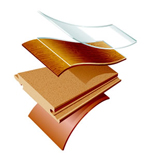 Laminate flooring has become a popular choice for many homeowners due to its ability to closely emulate today's most popular hard surfaces, especially hardwood planks and ceramic or stone tiles. Besides the great textures and designs, laminate flooring offers improved durability, easier maintenance and affordability compared to other types of hard surface floors.
These floors are extremely resistant to wear, stains and sunlight fading. The beautifully rich textured finishes make these floors a great alternative for most areas in the home.
Having arrived from Europe over a decade ago, laminate flooring was inspired by countertop materials, only it's at least 20 times stronger. With a direct pressure laminate surface it is virtually impossible for spills and scuffs to leave a mark. The clear surface layer protects the pattern underneath and is highly resistant to cigarette burns and scratches from pets.
Maintenance is quick and easy using a damp cloth or vacuum and most household cleaning chemicals will not harm a laminate floor. The surface is hygienic and is excellent for people suffering from allergies.
Types of Mohawk Laminate Flooring Specially engineered with layered construction, laminate flooring can be installed almost anywhere in the home, including over dry concrete slabs, wooden subfloors and many types of existing floor coverings. The low clearance space height means laminates are particularly suited for renovation and restoring old houses where floor thicknesses can be a problem.
Mohawk Laminate Flooring offers a wide selection of rich colors and designs in several different grades, including laminates with pre-attached underlayments to help deaden sound and keep the floor warmer and "embossed-in-register" designs in which the surface texture exactly matches the image texture for highly realistic look and feel of real hardwood, tile and stones styles.
Back to Top
Tile & Stone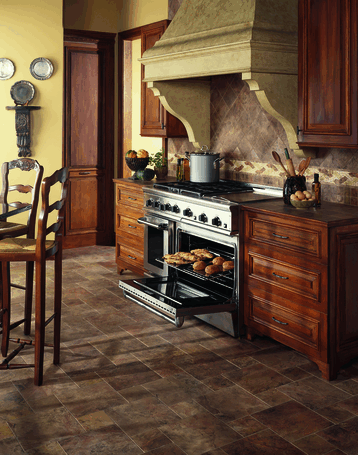 Unlimited colors and shapes. Unlimited potential for custom installations. Exceedingly durable. Graded for use. Styles to include natural stone. Porcelain can go indoors or out.
Through the flooring innovations of today, ceramic tile is not only more affordable, but is also easier to maintain. The options for color, patterns, sizes, shapes and design are infinite. We are sure that with the many different stones we have available, you will be able to find just the right stone for your home and design needs.
Before looking at stone, there are a few things you should be educated on. The first thing is that there are four distinct types of stone. These include Ceramic, Porcelain, Marble and Granite. Within the Ceramic selections, there is glazed tile and unglazed floor tile (aka Natural Stone). Glazed is the most common and it has a special coating that is applied to the body of the tile and then fired at a very hot temperature to seal the tile. The glazing then creates a hard and non-porous result. The benefits of glazed stone include Stain Resistance, Scratch Resistant, Fire Resistant, Fade Resistant, Slip Resistant and the best feature, Ease of Cleaning!
The unglazed floor tile (aka Natural Stone) is free of the glazing process. However, while unglazed tile can be incredibly beautiful, it is porous and needs to be maintained regularly. There is a special sealant that can be applied to prevent stains and the seepage of spills and general dirt into the pours of the stone.
Porcelain Tile is a type of Ceramic that is made of very fine mixture of clays and minerals. The molecular makeup is similar to fine china or high end dinnerware. These clays allow porcelain tile to be fired at even hotter temperatures than the ceramic tiles, typically near 2400 degrees (F). The higher the temperature, the denser the tile will become and the less moisture it will attract. The benefits of Porcelain are similar to those of ceramic, they are denser and harder than most other tiles, they are highly stain and moisture resistant, they are naturally hygienic with an easy to clean surface. Lastly, porcelain is not only beautiful but equally durable and it can be used in both residential and commercial scenarios.
Marble, Granite & Limestone are very popular stones today. These three stones are all naturally made and therefore individually unique. They are mined out of quarries and consequently, no two stones are ever the same. One important feature of these types of materials is that they need to be sealed. They can be extremely porous and therefore care needs to be taken with the maintenance. While they are porous, it is not hard to care for them, which makes them very popular in many homes today.
It is common to grout your tile after installation. This is a mixture of cement and a color additive. Also a liquid latex additive can be added to the grout to give better resiliency to the grouted areas. It is common for grout to change color slightly over time.
Types of Ceramic Tile
Ceramic tile has been used for centuries and offers consumers more options in color, texture, pattern and overall beauty than most other floor covering materials. With new manufacturing techniques today's ceramic tile designs are virtually indistinguishable from natural marbles, travertines, slates and other stone products. Glazed ceramic and porcelain tiles are great choices for bathrooms, kitchens, foyers, sun rooms and great rooms.
For over a century homeowners have counted on Mohawk for all their floor coverings. With Mohawk Ceramic Tile you can let your imagination go free and express your unique and personal decorating tastes. Mohawk Ceramic Tile features all the latest tile fashion trends in colors, sizes and designs including decorative insets and borders. To help you select your Mohawk Ceramic Tile there are some terms you should know before going shopping.
Wall Tile
Ceramic wall tiles are normally less durable than tile designed specifically for flooring. Most wall tile is glazed with a semi-gloss or matte surface. The glazed surface has a very low slip resistance and becomes slippery when wet. Therefore, glazed wall tile is much more suited for wall or countertop applications rather than floors.
Glazed Ceramic Tile
Glazed Ceramic Tile is comprised of two basic elements, clay and water. Various clays are mined, ground and blended to a fine powder, and pressed together to form the body of the tile. The pressed clay body is then dried to reduce the moisture content. Next, the surface of the tile is coated with a colored glaze (similar to glass). The glaze is then permanently fused to the surface of the tile by firing it in kilns at approximately 2000° Fahrenheit, to form the finished product.
Porcelain Tile
Porcelain tile is made from a blend of fine-grain clays and other minerals to produce a very dense body, which makes it highly resistant to moisture, staining and wear. Because of these features, porcelain tile will withstand years of heavy foot traffic in both interior and exterior applications while maintaining its color and beauty.
ColorBody™ Porcelain Tile
This is the densest of all tile types, ColorBody™ Porcelain Tile has a through-color body and is defined by its 0.5% water absorption. These tiles can withstand heavy foot traffic and are suitable for both indoor or outdoor applications.
To determine the overall performance and durability of the glazed surface of ceramic tile, there are standardized industry tests and classifications which rate tile's specific resistance to scratching, breaking, abrasion, moisture, etc…
Scratch Hardness
Most tiles are rated for hardness or scratch resistance using the MOHS Test and rating system. The MOHS test rates tile from 1 (softest) to 10 (hardest). Ceramic tile with a value of 5 or more is suitable for most residential floor tile applications. Tile with a value of 7 or higher is normally acceptable for most commercial applications or heavy traffic areas.
Wear Rating
To help select suitable tiles for specific applications tiles are rated the P.E.I. (Porcelain Enamel Institute) scale. The tiles are evaluated for wear resistance on a scale from 1 (lowest) to 5 (highest).
PEI 1: Light Traffic – recommended for residential bathrooms or other areas with light traffic and where shoes are not frequently used.
PEI 2: Medium Traffic – recommended for residential interiors, except entryways, kitchens, stairs or any area where tiles may come into contact with gravel or sand.
PEI 3: Medium-heavy Traffic – recommended for all residential interiors and light commercial applications. Not recommended for commercial entryway.
PEI 4: Heavy Traffic – suitable for all residential interiors and most commercial applications, including shopping malls and public areas.
PEI 5: Heavy-plus Traffic – all residential and commercial areas where heavy-duty wearability is needed.
Water Absorption
Ceramic tile are also classified by their water absorption rate which reflects the density of the body of the tile. There is a direct relationship to the water absorption rate and the suitability of the various types of tile for interior or exterior applications. Tiles suitable for exterior applications must have a very low water absorption rate, especially in climates subject to freezing and thawing cycles. These are typically porcelain body tiles which have a moisture absorption rating of less than .5 %.
Shading
Like the natural products themselves tiles will vary in shading. This adds to the beauty and design of the products. When choosing a tile it's best to view 2-3 tiles together to visually determine the overall appearance of the tile.